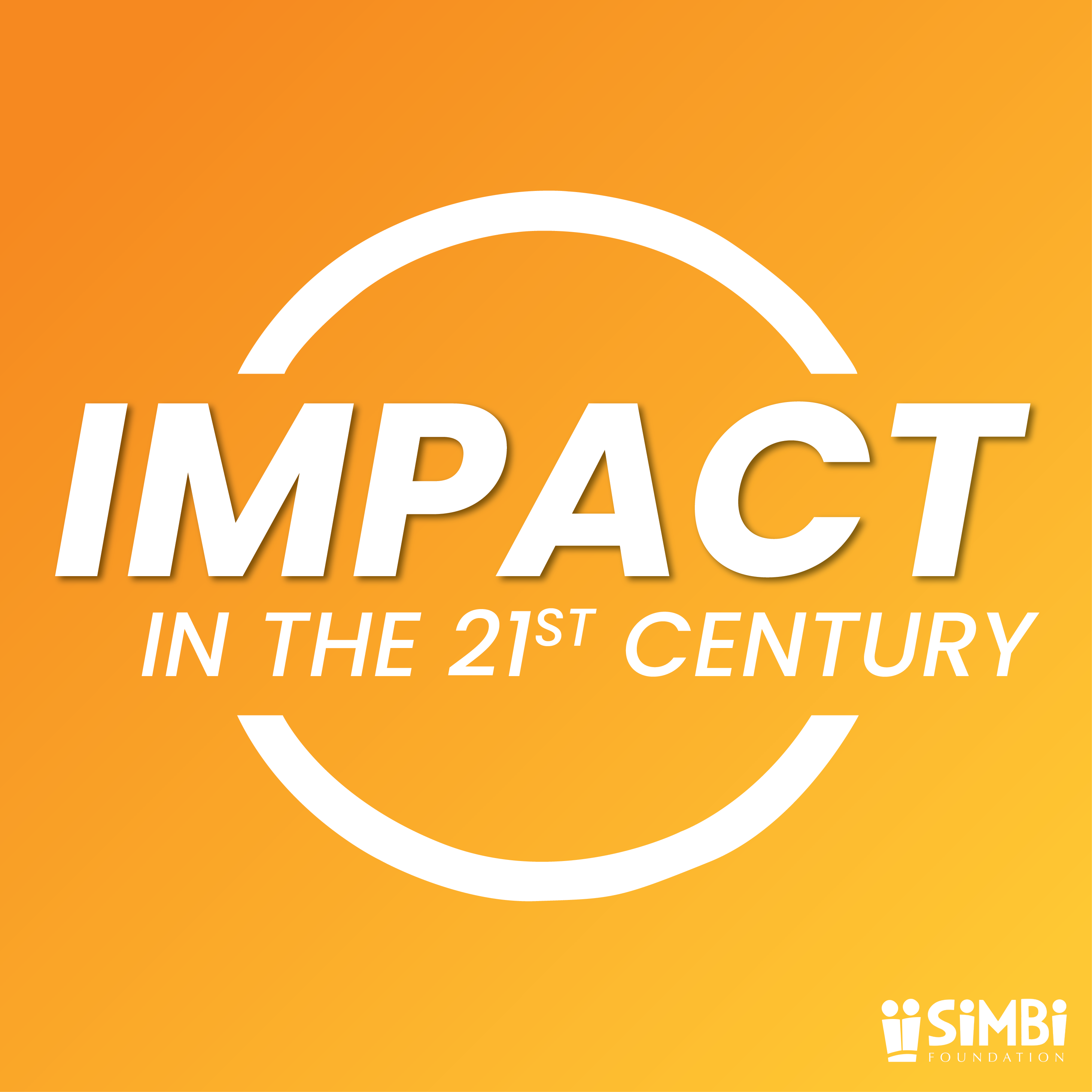 Welcome! You've arrived at Impact in the 21st Century, a podcast which shines a light on stories of positive impact and the inspiring individuals and organizations who are creating it. Each episode is a chance for you to hear from an incredible impact-maker about the work they are doing, how they found their passion and set off on their journey to make a positive difference, and how we can all be leading more impactful lives. Impact in the 21st Century is a podcast created by Simbi Foundation, a non-profit organization working to support the next 3.5 million refugee learners with solar-powered classrooms called BrightBoxes. Learn more at www.simbifoundation.org/podcast
Episodes
Wednesday Apr 27, 2022
Wednesday Apr 27, 2022
Equipped with little more than a notebook, binoculars, and her fascination with wildlife, Jane Goodall braved a realm of unknowns to give the world a remarkable window into humankind's closest living relatives. Through nearly 60 years of groundbreaking work, Dr. Jane Goodall has not only shown us the urgent need to protect chimpanzees from extinction; she has also redefined species conservation to include the needs of local people and the environment.
In this episode of Impact in the 21st Century, hear about Jane's childhood, how she revolutionized scientific understanding of chimpanzees, key learnings from her experience, and steps that you can take to feel more hopeful in your life.
Learn more about the Jane Goodall Institute here: https://www.janegoodall.ca
Learn more about Roots and Shoots: http://rootsandshoots.ca/
Read Jane Goodall's books: http://wiki.janegoodall.org/wiki/Books?_ga=2.180980577.756277851.1649286906-1138434439.1646855957
Follow the Jane Goodall Institute on Instagram: https://www.instagram.com/janegoodallcan/
On Facebook: https://www.facebook.com/JaneGoodallCAN/
On Twitter: https://twitter.com/janegoodallCAN
This episode was mixed and mastered by Musa Habib.
Thumbnail and episode title card photo credit: JGI/Bill Wallauer
____
What is Impact in the 21st Century?
Impact in the 21st Century is a podcast created by Simbi Foundation, a non-profit organization working to support the next 3.5 million refugee learners with solar-powered classrooms called BrightBoxes. This podcast celebrates the impactful work being done around the globe, and shares the stories of the inspiring individuals who are behind it. In this special series, we're focusing on the people working to protect our natural world, innovate greener technologies, and ensure that nobody is left behind in the process.
Who hosts Impact in the 21st Century?
Aaron Friedland is a National Geographic Explorer, PhD Candidate in Econometrics at UBC, Executive Director of Simbi Foundation, and innovator of the BrightBox solution and the unique reading platform Simbi.
Stream Impact in the 21st Century on your favourite streaming platform:
Apple Podcasts: https://podcasts.apple.com/ca/podcast/impact-in-the-21st-century/id1529033008
Spotify: https://open.spotify.com/show/7F6IBSN7Ysz6wl622eK5lN
Google podcasts: https://podcasts.google.com/feed/aHR0cHM6Ly9mZWVkLnBvZGJlYW4uY29tL3NpbWJpZm91bmRhdGlvbi9mZWVkLnhtbA?sa=X&ved=0CAIQ4aUDahcKEwiAoLbL3-HrAhUAAAAAHQAAAAAQAQ
Learn more about our podcast at www.simbifoundation.org/podcast